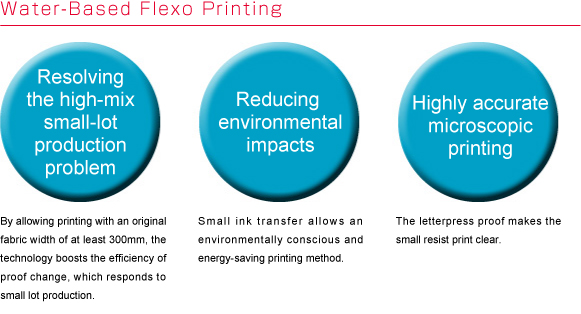 Features of flexo printing include the use of only small amount of ink, as well as high flexibility and rebound resilience allowing low pressure printing, minimizing the impact on printing materials, and a letterpress proof to make small resist print clear.
Flexo printing has been mainly used for package printing. Recently, however, it has also been applied in various other wide-ranging fields.
Furthermore, this technology is known as an environmentally conscious printing method. The flexo printer uses water-based ink, further enhancing its green credentials.



Generally speaking, films used for gravure printing are mainly polypropylene, polyester, and nylon.
Gravure printing allows continuous printing on these films at a certain speed using a cylindrical proof, which enables the overprinting of multiple colors using quick-drying inks.
The proof for gravure printing transfers the inks in fine cells (concavities) onto the films. Using cells of varying depths and sizes, color shading is reproduced to achieve beautiful and artistic prints.
The inks are made by distributing or dissolving the primary resin that adheres to the film type to be printed, and the pigment used as colorant, in a solvent. The primary resins used include soluble nitrocellulose, polyamide, polyester, and polyurethane.


This is an environmentally conscious form of gravure printing using water-based solvent.
The high value in terms of Lines Per Inch and fine cells help deliver sharp and clear printing and also allow it to handle challenging color tone printing. The method has low proof clog, allowing printing of consistent quality to be maintained long term.