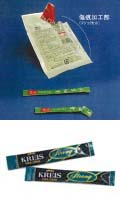 ● Laser processing
Precise laser drilling, which drills holes for air vents to make the package stable when displayed on the shelf. The processing is widely used, mainly for rice bags.The processing has an invasion prevention function of the foreign substance (such as the insect, the refuse and so on) into a bag, because the hole by the processing is very fine.
● Magic cut processing
Aiming to facilitate opening of the package, after applying scar processing on a side of the bag, the package is processed to enable cutting from every side, according to the printed instructions. This processing is available for both roll and bag products.
● Partial Magic Cut Processing
The processing has a function for making magic cut partially on optional places, and give a cut nature and puncturing nature to the product. In magic cut processing of a non-seal part, the processing has a barrier nature comparing with the continuous magic cut processing.
● Magic open processing
Applying scar processing on all film surfaces, the package is processed to facilitate cutting from every side.
● Antistatic printing
Unlike antistatic films, the antistatic is effective on both sides after lamination, without decreasing the antistatic effect and laminate strength over time.
● Tubular bag-making roll processing
The packages are supplied in tubular rolls customized according to each customer's filler. As in general, film combination is not available with tubular films, the films are delivered after the sheet laminate processing of films with different reverse printing effect or functions, half-cut bag-making, sealing both sides, and winding-up to rolls.